Golf Ball Mold Paper Weight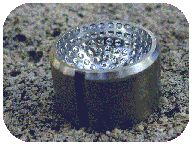 F.H. Richards & Co. of New York and Atti Engineering Corp. of Union City were leading makers of golf balls in the early and mid-1900's. They manufactured stainless steel molds that were used in a press to form the outer cover of golf balls. Each mold-half is cut with the dimple pattern that was impressed on to the golf ball's cover. The mold-half is also stamped with the name of its manufacturer, and the month and year of fabrication. Mold-halves are sold separately as desktop paper weights or as part of a desktop pen set or wall plaque.
Approximate Dimensions: 1 1/8" high by 2" diameter by 10 oz.

Order This Item...